About Family Chiropractic Care
Our Family-centered Practice
Since 2004, family wellness has always been the centerpiece of our chiropractic care center. Family Chiropractic Care is passionate about serving the community members of Sugar Land, with a particular emphasis on helping children develop and maintain a state of vibrant health.
We love people and want to help them when they're hurting. We're honored to accomplish this task in the family-style atmosphere of our office, a home away from home dedicated to your well-being.
Expect a Better Life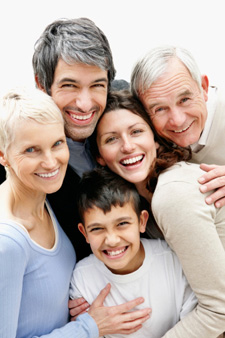 We included the word "family" in our practice name because we feel that good health has its roots in childhood. Our mission is simple: deliver a skilled, specific adjustment to get people out of pain and back to a life of optimal function. Once you're feeling better, if you want to consider ongoing care or wish to pursue an increase in your wellness potential, we leave that up to you.
Our hope is to increase your joy in living and to experience what it means to truly have a healthy family. We find that when people regain their health, it not only affects them individually but the entire family as well.
A case in point is Dr. K's son Micah, who had to endure relentless ear infections as a toddler. When the family took him to see a chiropractor for evaluation, they had no idea what to expect. But after his first adjustment, Micah's suffering ended, and their happy little boy re-emerged. The entire family was transformed.
We want the same type of successful outcome for every patient and their family members!
Our Practice Difference
Here are some of the ways that we stand out from other practices in the Sugar Land area:
One of Dr. K's practice mottos is "chiropractic is specific, or it's nothing." He prides himself as being a practitioner who realigns the spine with precision and specificity.
We feature research-based therapies, including Thompson Drop Table, a table-assisted technique that requires low force and creates exceptional results.
We warmly welcome children of every age to our chiropractic care center. Kids love the fun they have in our clinic, and parents trust our gentle care and experienced judgment.
Patients often say that our office is like that of a country doctor. We think these comments come our way because we're completely patient-focused and unhurried in our dealings with our practice members. We aim to be good listeners.
Does what we have sound like a good fit? We'd love to help you get out of pain or optimize your function. We welcome walk-ins, and also feature same-day appointments. Contact our chiropractic office today, and let's get started!
---
About Family Chiropractic Care | (281) 650-6019